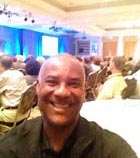 Thursday (Valentine's Day), Friday, and Saturday, LeFrancis attended the REALTOR Party Issues Conference at St. Regis Hotel on Monarch Bay in Dana Point, CA. The National Association of REALTORS® (N.A.R) REALTOR® Party is an energized movement of real estate professionals fighting to keep the dream of home ownership alive. As the largest trade organization and America's premier advocacy group, they stand ready to continue working with Congress to advocate and implement legislation and a regulatory agenda by (1) VOTING to protect REALTOR® issues and to educate voters about issues that affect property owners; (2) ACTING in support of policies and regulations that promote home ownership and the real estate industry; and (3) INVESTING in candidates who support REALTORS® and private property rights.
With it's one million members + 75 million homeowners who can vote and act together to heavily impact the federal, state and local levels, they will continue to help the community in the following ways:
— provide programs & grants that preserve the dream of home ownership and vibrant real estate markets;
— build vibrant communities by educating consumers and protecting homeowners' investments;
— speak with a united voice on issues that impact communities and the dream of home ownership;
— demonstrate community leadership by voting, acting, and investing; and
— promote a strong U.S. economy.
The conference program started on Thursday with a day of "Best-Ball" golf and continued with a field of excellent speakers including Peter Hart and Bill McInturff; economy panelist Lawrence Yun, Christina Romer, and Greg Mankiw; Robert Caros on "The Years of Lyndon Johnson"; conversations with Congressman Brad Sherman (Dem.) and Congressman Gary Miller (Rep.); and Mika Brzezinski (co-host MSNBC, "Morning Joe") on her bestseller, "Knowing Your Value".
SEE Issues for a list of REALTOR® Party issues.